Pediatric Dentist Anesthesiologist
Children have dental anxiety, just like many adults do. It is normal for children to be leery at the dentist's office since it is a new environment.
Some children who are experiencing anxiety and are unable to cooperate for necessary dental treatment can benefit from anesthesia services. In addition, children with special needs who are unable to cooperate for dental treatment can benefit from these services.
---
When you and your child come in for your appointment, Dr. Hoffmann, Dr. Thoms, or Dr. Daugherty will work with you to decide which option is the best for your child, depending on their anxiety level and cooperation. We look forward to meeting you!
Dentistry for Children with Special Needs
Finding a pediatric dentist for special needs can sometimes be challenging. At The Dental Anesthesia Center, our pediatric dental anesthesia specialists have advanced training that allows them to interact positively with children who have anxiety and special needs. Our office is fully equipped to accommodate patients with special needs, allowing us to deliver care in a relaxed and comfortable environment for you and your child.
We provide dental care for children with special needs such as:
Developmental Disabilities
Asperger's Syndrome
Angelman Syndrome
Rett Syndrome
Children with anxieties, phobias, severe gag reflex, or difficulty getting numb are also candidates for our general anesthesia services.
What You Can Do to Help Your Child?
Positivity is Key!!! At a child's first dental visit, parents play a vital role in making the visit a positive experience by "setting the stage." Any fear or anxiety presented by the parents will be "picked up" by the child.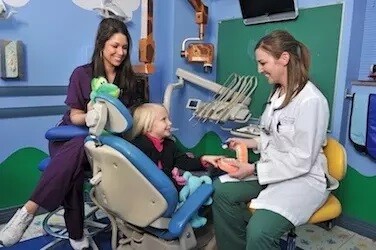 Parents can help ease their child's dental anxiety by simply bringing them along to their own dental visits. When a child sees their parents go to the dentist, it lets them know it is not a scary place. Even introducing the child to the dental office's waiting room a few days before the dental visit will help the child feel familiar.
Please do not express to your child that something will HURT or be painful. This will ONLY increase your child's anxiety. Our main goal is to relieve our patients of any discomfort and restore their mouth back to a healthy state. We strive to make all of our patients as comfortable as possible.
Look for a Pediatric Dentist Near You?
Call Us Today
The Only Board Certified Dental Anesthesiologists in the State of Missouri, including the St. Louis Metro Area.
The Dental Anesthesia Center: Sedation and Sleep Dentistry
Average rating:
4 reviews
May 2, 2020
Beyond pleased with our experience with Dr. Hoffman!! My son, Cameron, had work done and everything turned out way better than I could've ever expected. Dr Hoffman saved all of his teeth, where other dentist told me the only option for two of his teeth were to be pulled. His smile is so beautiful and I couldn't think them enough! They were sooo kind!! The dental hygienist were so sweet, and throughly explained everything to me. There was no judgement. They made this whole process so comfortable. Yes, it was pricey, but worth EVERY penny. Thank you, thank you, thank you!!!
Nov 16, 2018


My 3 year old recently had to have dental work done and this office was fantastic! Dr. Hoffmann explained everything thoroughly and the assistants made sure this nervous momma was comfortable as well. They even called the next day to check on him! Everything went smoothly and perfectly. His teeth look awesome and better than I expected! I would definitely recommend these guys to anyone!" - via Facebook


Sep 20, 2017
My son is in need for oral surgery and Dr. Thoms was so kind and gentle with my son! We are so blessed to have found this team!" - via Google
Jul 2, 2017
My 9yr old daughter was afraid of going to the dentist. I was referred to Dental Anesthesia and I must say, they were AWESOME!! Dr Sean Thoms along with the staff were wonderful. They explained everything they were going to do to my daughter and kept me well informed during her procedure. They allowed me to be by her side until she was sedated. They even called later in the day just to check on her. My daughter said they made her feel very comfortable and would want to return to this practice for future procedures." - via Google