Call Us Today
The Only Board Certified Dental Anesthesiologists in the State of Missouri, including the St. Louis Metro Area.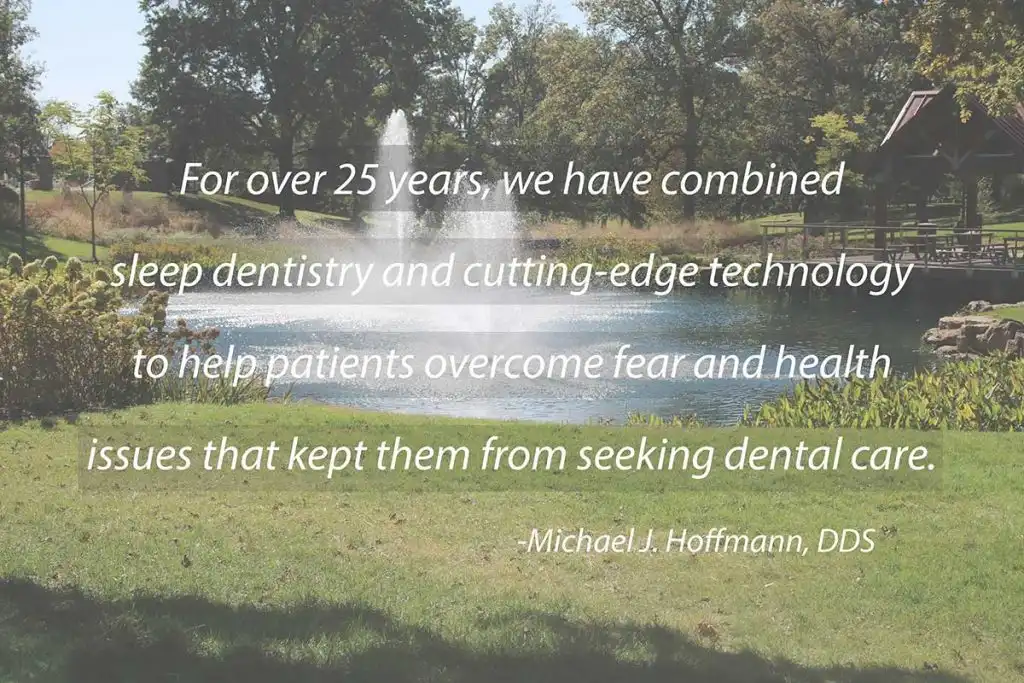 The Dental Anesthesia Center
At The Dental Anesthesia Center, we value our patient relationships, making it our priority to deliver gentle dental care that you deserve from sedation dentists in St. Louis. We work hard to make you feel at ease by providing exceptional patient care in a relaxed, convenient atmosphere. We strive to develop lifelong relationships with our patients by combining the latest dental technology with a professional and compassionate team.
"Anything that they can do to accommodate people with special needs, they do."
"If it was not for them, I don't think I would be able to make it through a normal dental appointment."
"They do anything they can to make you feel comfortable."
See what our patients are saying!
I recently had fillings done by Dr. Thoms. His crew that was helping prep me to go under did an amazing job. I have really bad trauma (& anxiety) from previous dental work and permanent nerve damage from a surgery I had in 2021. The staff and Dr. Thoms made sure that I was calm and comfortable. This has probably been the best experience I have ever had, thanks to this dental clinic. The front end staff is patient and kind to their patients. I would most definitely recommend anyone to go here if they have dental anxiety. Dr. Thoms explained everything very thoroughly during our consult months prior and also the day of my fillings. After we were finished with my filings, I told him about my bottom teeth pushing too much on my 8 and 9 (another issue I had been dealing with after my last dental surgery), he was more than happy to help and filed down my bottom teeth. I am relieved that he was able to do that for me, even though it was not initially planned. The price of the fillings, anesthesia and odontoplasty/enameloplasty was reasonable. I wouldn't want to pay any less because the outcome was worth it.
Juaniata Johnson
2022-07-09
The entire staff is always very compassionate and patient with my daughter who's autistic😊 I am a patient as well the staff and the doctor are very knowledgeable and are capable of answering every question explaining in detail to my satisfaction. I am in the process of bringing my grandson to become a patient as well keep up the superb service 👏
Elizabeth Sims
2022-07-07
I would highly recommend DAC to anyone. I brought our two boys (ages 6 & 3) in to have their routine cleaning. The moment we walked in we were greeted with smiles and warm hellos. The staff does a great job of talking to the boys, saying hello, and making them feel extra special. Carrie cleaned their teeth, and she is awesome. The boys were both so comfortable, she tells them exactly what she is doing, and makes sure they are ok the whole time. She talked with them about their summer plans, school, and fishing. Then Dr. Behl came in to check everything out. She was so personable, informative and positive with the little ones. She explained things very well, and she was so patient as they asked questions or had something to tell her. Thank you to all of the staff at DAC, for being so warm and making this a great experience for the little ones.
5 Stars! I skipped going to the dentist for 6 years and what a mistake that was. Everyone at this office is extremely nice and a pleasure to deal with. Laina, their hygenist is awesome even though she is a Cubs fan. I actually look forward to my 3 month cleanings now and will not miss another. Dr. Thoms and his team (I requested Julie as an assistant I would do the same :)) were amazing. As I said I skipped going for 6 years so I had some work to be done and chose to be put to sleep instead of 4 visits. They make sure you are as comfortable as possible and even take the time to check up on you after to make sure you are healing properly. Last but not least, Marie and the entire front office are great. Always a pleasure to deal with and are very accommodating. They are the face of the operation and the tone of the visit is set with them. The amount of care and compassion they show the patients in the waiting room is beyond extraordinary.
Suzanne Chisum
2022-06-05
I went for the first exam. Really liked Dr. Thoms and Justine. Problem was with getting through all the online stuff to get the estimate for treatment. Rather pricey. Not sure I will be able to afford at all.
I have a special needs son that needed some work done. The Dental Anesthesia Center is an amazing place I can't imagine Trevor being in any better hands. We love Dr. Thoms and his staff. So nice and caring. A little on the expensive side but very well worth the care he received. I would recommend to anyone that has special needs, fear of dentistry or just in need of a dentist.
It can be frightening to have to put a two-year-old under anesthesia. The staff and Dr. Thoms took the time to explain the treatment options. The process went well, and the services were outstanding. Everyone was polite and empathetic, from the front desk receptionist to the dentists. The customer service was excellent. I rarely post reviews, but I do so because I want others to know that they can trust and feel safe with their care. The Dental Anesthesia Center comes highly recommended from this mama bear.
Rachel Sierbinski
2021-07-20
My son has autism and a lot of anxiety around medical procedures. This is the most understanding and compassionate group of people, I am so grateful we found them. The doctor calls personally to check up on us after the appointment. Even though we only come once a year they remember my son's needs without me having to explain everything all over again. They are always on time, organized, and transparent about billing. I wish all of our medical appointments could go as smoothly as they do here.
Emily Williams
2021-06-10
Absolutely wonderful! My five year old had to have extensive dental work done and from start to finish the dental anesthesia center delivered five star work ! Going to the dentist is scary enough but having to take your own child to be put under was next level and the care he received from the nurses and dr was mind easing.
ShiningStar0428
2020-08-25
Very kind and compassionate staff. They took excellent care of my special needs kiddo and took extra time to make sure it was done right. I would highly recommend.
Getting ready for your first visit?
Click the link below to see how to prepare.
Tour Our Office