General Dentistry St. Louis
For over 20 years, we have provided exceptional dental care to our patients in a comfortable and friendly environment.
Our team of experienced dentists and friendly staff members at The Dental Anesthesia Center are committed to creating a comfortable and welcoming environment for every patient. Whether you need a routine check-up, a cosmetic procedure, or specialized treatment, we are here to help you achieve optimal oral health.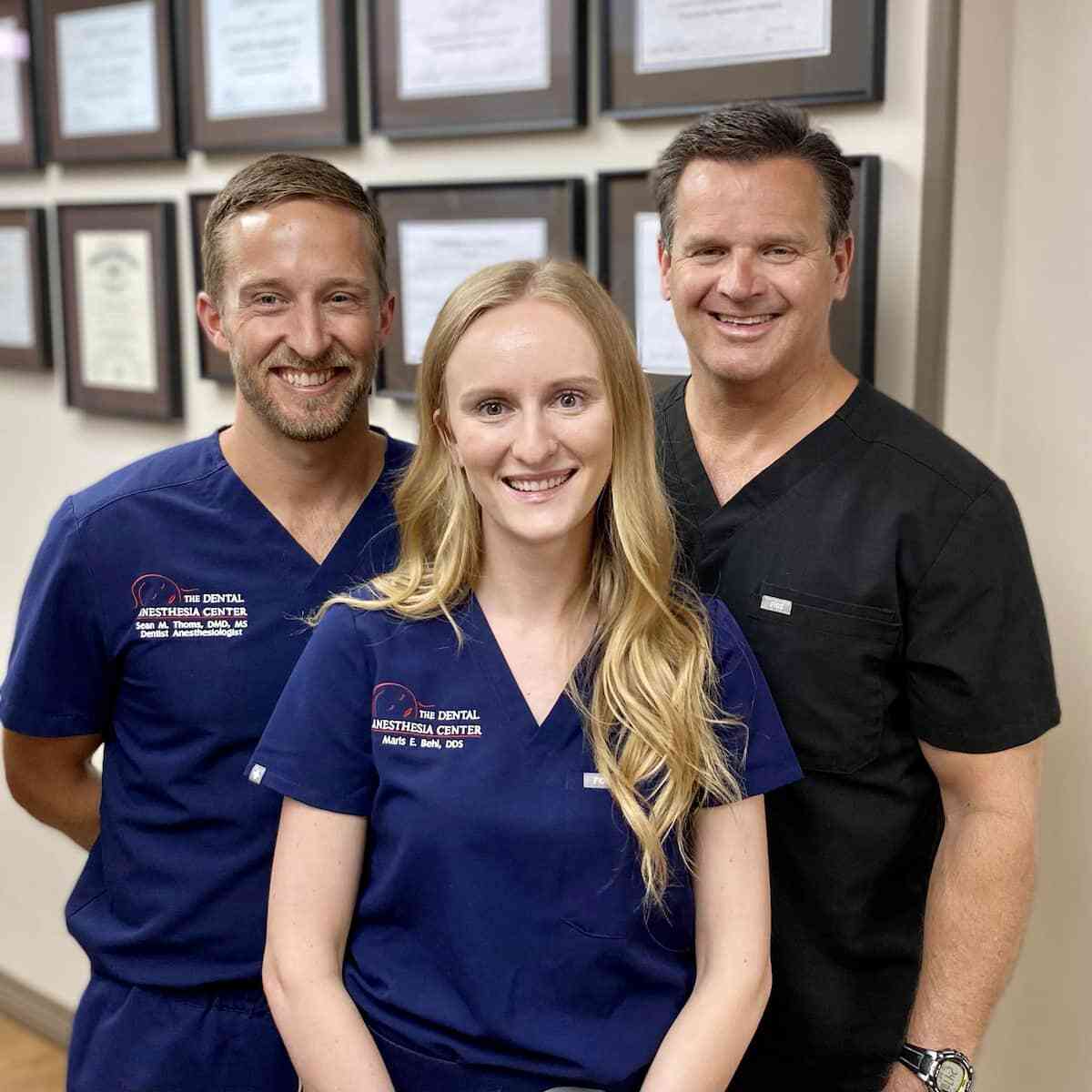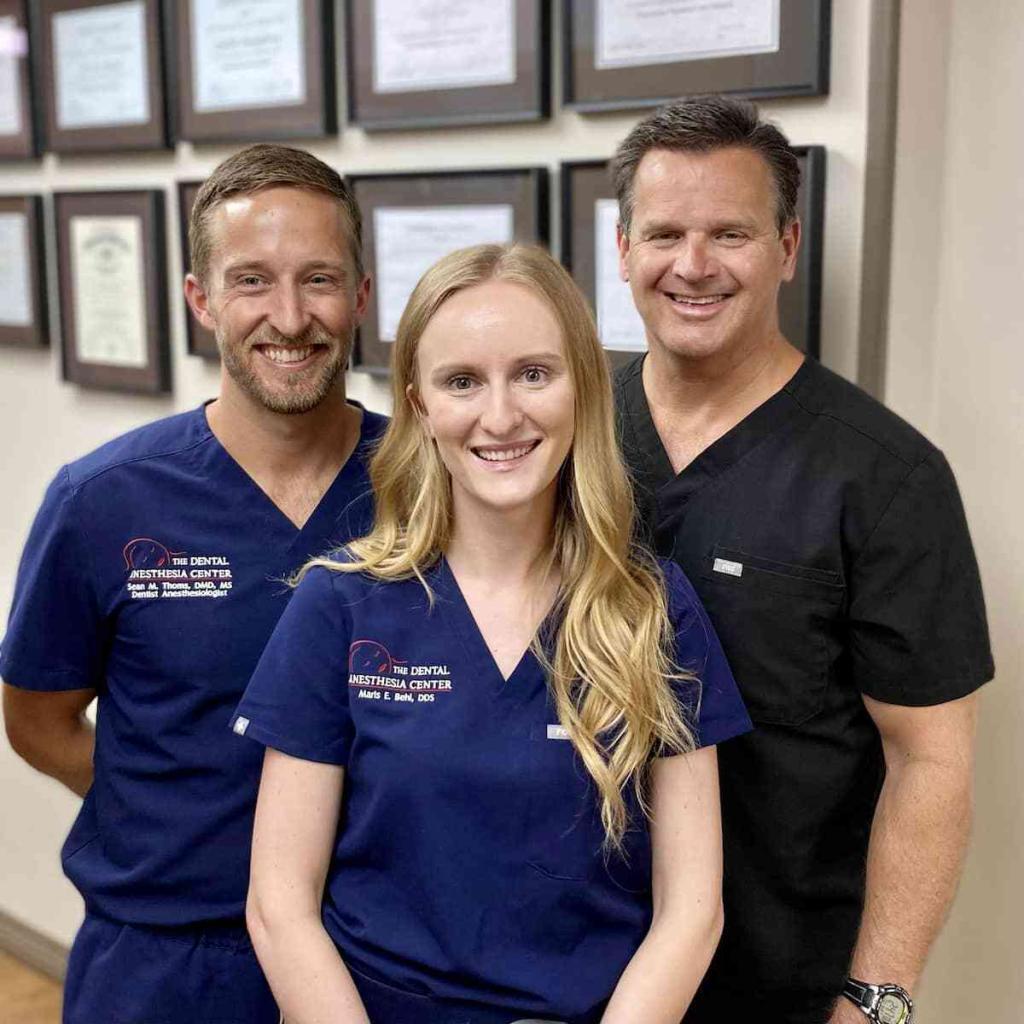 We invite you to visit our office and experience the highest standard of dental care. Our friendly staff is ready to assist you in scheduling an appointment and addressing any concerns.
Meet the Dentists
Dr. Michael J. Hoffmann, a general dentist anesthesiologist, completed residencies in hospital dentistry and dental anesthesiology. He is a diplomat of both the American and National Dental Boards of Anesthesiology and is certified in deep sedation and general anesthesia by the Missouri Dental Board.
Dr. Sean M. Thoms, a general dentist anesthesiologist, is certified to provide Deep Sedation and General Anesthesia for dental procedures by the Missouri Dental Board. He primarily focuses on treating patients with special healthcare needs, such as Autism, Alzheimer's, Cerebral Palsy, and Down Syndrome.
Dr. Maris E. Behl received her Bachelor's degree from the University of Missouri – Kansas City in 2017 and her Doctor of Dental Surgery (D.D.S.) from the University of Missouri – Kansas City School of Dentistry in 2021. After graduation from dental school, Dr. Behl attended a 1-year General Practice Residency at the University Health Dental Clinic – Lakewood in Kansas City.
Call Us Today
The Only Board Certified Dental Anesthesiologist in Missouri, including the St. Louis Metro Area.
Call (314) 862-7844
General Dentistry Services
Our comprehensive range of services is designed to address all your family's dental needs. Our general dentistry services include the following:
Preventive Dentistry: Regular dental exams, cleanings, and oral hygiene instructions to keep your teeth and gums healthy.
Restorative Dentistry: Fillings, crowns, bridges, and dentures to repair damaged teeth and restore your smile.
Cosmetic Dentistry: Teeth whitening, veneers, and smile makeovers enhance the appearance of your teeth and boost your confidence.
Orthodontics: Traditional braces or clear aligners to correct misaligned teeth and improve your bite.
Pediatric Dentistry: Gentle and compassionate dental care for children, including dental exams, cleanings, sealants, and fluoride treatments.
Periodontal Care: Diagnosis, treatment, and maintenance of gum disease, including scaling, root planing, and periodontal surgeries.
Oral Surgery: Tooth extractions, wisdom teeth removal, dental implant placement, and other oral surgical procedures.
Endodontics: Root canal therapy to save infected teeth and alleviate pain.
Emergency Dental Care: Prompt attention and treatment for dental emergencies, such as toothaches, broken teeth, and oral injuries.
Our dentists have years of experience and stay up-to-date with the latest advancements in dentistry. We prioritize your comfort and make your dental experience as pleasant as possible. We offer a wide range of dental services, allowing us to address all your oral health needs under one roof.
General Dentistry for Patients with Special Needs
General dentistry for special needs patients involves dental care for individuals with physical, intellectual, developmental, or sensory impairments. These patients may have unique challenges and require additional support and accommodations during dental visits.
At The Dental Anesthesia Center, our dentists specialize in treating special needs patients. We have the knowledge, skills, and resources to provide appropriate dental care comfortably and compassionately.
Here are some considerations for general dentistry for our special needs patients:
Patient-focused approach
Communication and sensory considerations
Patience and understanding
Customized treatment plans
Collaboration with caregivers
Parent/Caregiver involvement
Specialized equipment and facilities
We specialize in treating special needs patients, understand the unique challenges and strive to provide a positive dental experience. Our goal is to ensure that individuals with special needs receive the dental care they require in a comfortable and supportive environment.
Schedule an Appointment
At The Dental Anesthesia Center, our office is home to a team of experienced and skilled dentists with a wealth of knowledge and expertise in various areas of dentistry. From preventive care and routine check-ups to restorative treatments, cosmetic dentistry, orthodontics, and more, we have the expertise to address a wide range of dental concerns under one roof.
We prioritize the comfort and well-being of our patients. Our team is committed to providing personalized and compassionate care, taking the time to understand your unique needs and concerns. Schedule your appointment today – we look forward to meeting you.